Interview
Alma Čizmić Clausen started the club to educate Bosnian and non-Bosnian children


Autor: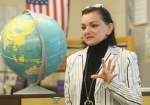 "I bring up the beauty both before and after the war," Clausen said. "I am trying to see what the children are most interested in. They want to learn more about their Bosnian friends … Where they come from and how they play. Because they are so young, they are asking all these questions."

---
Senaid Ibrahimefendic, District Court President


Autor: BIRN

"The witnesses were sent back most probably because of procedural circumstances. Normally, it's totally unnecessary to invite someone to testify several times. The court has to make sure the criminal proceedings are conducted in accordance with the Law on Criminal Proceedings," Ibrahimefendic explained.

---