Interview
Tarik CRNKIĆ, District Prosecutor


Autor: BIRN

I don't have a lot of these cases. We have four open cases and I've set them as priorities. There was one such trial before I began working here. In a way, I believe that it's necessary to train the police agencies of entities, because the prosecution isn't working alone, but with the police.

---
Slice of Life: Chef Dino Redzic Lights Up 42nd Street with Vibrant Italian Cuisine


Autor: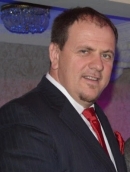 Living in the United States is a dream, clearly the best place in the Universe. You can be everything that you want to be, but you have to do it yourself. It is a privilege and not a right. I often do lectures and seminars on how important it is to encourage people to choose a profession that they are gonna like.

---