Interview
Talat Hamdani, mother of Mohammad Salman Hamdani, a 23-year-old certified EMT and NYPD cadet who lost his life as a result of the 9/11 terror attacks.


Autor: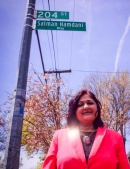 As his mother, it's hard. Salman gave me all the happiness of motherhood, as he was my first born. My husband just doted on Salman, and it was very difficult for him to cope with Salman's death. He was the pillar of my house and both of my younger sons looked up to him because he was the eldest. They called him "bhaijan" (brother). He was their friend and their big brother.

---
Professor John L. Esposito, University Professor and Professor of International Affairs at Georgetown University. His many books include The Future of Islam.


Autor:

For the foreseeable future Islam will be part of Egyptian politics and that many other nations. But of course it will take many forms, organized and unorganized. Therefore, current movements or reconfigured current movements as well as new religiously rooted social and political movements are not only possible but also probable regardless of short-term failures or government repression.

---