Speech of the esteemed Reisu-l-ulema on the occasion of Leiletu-l-khadr 1429/2008
BOSANSKI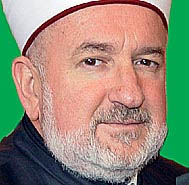 Dr. Mustafa ef. Ceric, Reisu-l-ulema
Dear brothers and sisters,
How many times have we wished for the Heavens to open; for the secret of life and death to be revealed; to be told where we come from; who we are; why we are and until when we are here on Earth. What we need to do to be within measures of our soul and body, and what we ought not do in order to be according to the plan of our Creator.
It is not that each one of us does not have an answer, and it is not that we have not heard from the lightly imaginative poets, and heavily cerebral philosophers, the answers to the said questions. Yet, neither our own, nor the answers of the poets and philosophers, satisfy us, as the more we think the less they are convincing, and the more we speak of them the less they are clear.
Our longing to hear an answer which holds no doubt, and to learn about an answer which offers no dilemma is a proof that speech exists and there is an answer. Is water a proof that we are thirsty, or is our thirst a proof that there exists water? It is both, one and the other? Water exists to sate our thirst, and our thirst necessarily proves that there exists water. In the same way, our curiosity proves that there necessarily exists truth; our wish to hear proves that there necessarily exists a clear speech; our questioning proves that there necessarily exists an answer.
Mohammad (a.s.) believed that the heavens will open and that the speech will flow from it, and that the truth will be revealed - the truth of Adem's, Nuh's, Ibrahim's, Mussa's, Isaa's. He knew that Adem's repentance brought Allah's forgiveness and mercy; he felt that Nuh's clairvoyance showed the path of salvation; he understood that answers were clear after Ibrahim's questions; he saw that Mussa's humility before God overpowered pharaoh's arrogance over people; and he was convinced that Isaa is son of Merriam, only a messenger of Allah's, and His Word and a Spirit of His.
He found a place, in the cave of Hir'a, where he waited for the moment the Heavens will open and observed the sign which will signify the beginning or, rather, the continuation of a clear speech in which the whole truth about everything that is and that is not, and about everything that was, or will be. He waited for Allah's mercy in Adem's repentance; searched for salvation in Nuh's clairvoyance; understood the answers to Ibrahim's questions; hoped for victory in Mussa's humility; and believed in the Spirit of Isaa as the Word of Allah.
And Mohammad (a.s.) met the moment and saw the sign. The moment is called Leiletu-l-khadr, and the sign Jibrail'i Emin. Therefore, the place of the cave Hir'a, the time of Leiletu-l-khadr, and the sign of Jibrail'i Emin have united the Heavens and Earth and saved man from oblivion and solitude, and marked a way for him from transience to eternity.
Mohammad (a.s.) was at the place, he lived the moment and time and he saw the sign. Therefore he advises us that in the night of Leiletu-l-khadr we do not go to sleep but that we, as he had, take the opportunity and seek Allah's mercy and forgiveness, to recognize the path of salvation and to see the sign of Allah's speech which presents itself in Quran 'I Azimu San. As Allah's speech is a river, from the spring of His peace, which gives our speech remedy so that truth be from the beginning to the end. As - If all trees upon Earth were pencils and ink is a sea with another seven seas, Allah's words would not be exhausted; Allah is, indeed, mighty and wise (Qur'an, 29:27).
Leiletu-l-khadr is the night of measuring, planning, determining and happening. It is said that that night is better than thousands of months and that in it angels Jibrail and Emin, with Allah's permission, come down to Earth for every thing. In this night is evidenced a special power of security until dawn. Therefore tonight we need to be awake until dawn, as Allah (j.s.) in this night forgives the sins and gives strength to reliance in life and peace among people.
Tonight we need to read and study in the name of the Master who created man from a curd. We need to read and study as the Creator is noble, he taught man everything man had not known. We need to read and study from a Book in which there is no doubt and in which there are answers without a doubt. That Book is Qur'an, the only book of God which is available to all people, which is openly explained, out of which nothing is hidden, nothing changes, nothing is removed and nothing is excluded.
Qur'an is the most beautiful Book in which Allah's eternal word is contained, the same one that is contained in Zabur, Tawrat and Injil.
Nothing, neither time, nor people or Satan, could erase Allah's words. They could kill messengers and their offspring, they could kill caliphs and sultans and their offspring, they could eliminate caliphates and meshihates, kadidoms and muftidoms, but they could not and they will not be able to eliminate Allah's truth announced in the Mubarak night of Leiletu-l-khadr.
They could not and they will not be able to eliminate the institution of Qur'an which was founded by the Creator of Heavens and Earth, and which is being maintained by His angels, and around which gather people who love Allah and His Messenger, who point to good and point away from evil, who do not mean evil, who believe and do good deeds.
If we are ready to make a covenant that we do not believe in Satan, and that we believe in Allah, then we are holding onto the strongest link which will not be broken. And Allah hears everything and knows everything.
In this night of measuring, planning, determining and happening, I ask Muslims, wherever they are, to unite their hearts in belief in the One and Only God. Angels are arriving tonight. They go where they have someone to arrive to. Therefore open our hearts and our souls and unite tonight with angels in dova to the Almighty to accept our repentance for our small and big sins.
Tonight we need to give a covenant to Allah that we will not die other than Muslims, that we will keep faith in our family, unity in our people, peace in our homeland and brotherhood in our umma. That we will help one another in good. That we will strengthen mutual trust and remove doubts.
That we will help those who need our help: jetims, muhajirs, the ill, the powerless and the elderly.
I especially call upon youth tonight to study dova to Allah and pray for our salvation and happiness, as their dova is the dearest one to Allah.
We study dova to Allah that the belief of our children be steadier and stronger than our belief, that their future be better than our past and that Allah bestows truth, justice and peace to all people.
Merciful God, we too, in Bosnia,
are grateful,
for being within Your mercy,
and in the faith of our joy!
Merciful God, we too, in Bosnia,
are proud tonight,
that we can read,
the words which will save us!
Merciful God, we too, in Bosnia,
are joyous tonight,
that we can study,
the dova for our sins to be forgiven!
Merciful God, we too, in Bosnia,
are virtuous tonight,
that we are in this night,
obedient to Your omnipotence!
In the cave of Hir'a,
he sought peace,
and waited for the messenger,
to find iman,
and bring life to Islam,
Rabbena atina fiddunja haseneten,
ve fi-l-ahiereti haseneten ve kina azabennar