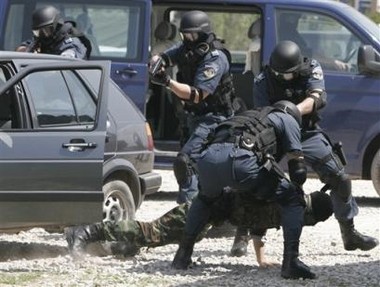 The State Investigation and Protection Agency, SIPA, arrested Radovan Klepic on Thursday on suspicion that he committed war crimes against civilians in the Sanski Most area.
Klepic, former member of the reserve police forces with the Public Safety Station in Sanski Most, was arrested on a warrant issued by the Una-Sana Cantonal Prosecution on suspicion that he killed Juso Krupic.
The Una-Sana Cantonal Prosecution allege that Klepic and another soldier physically abused Krupic after he had been arrested and brought to the police check-point in the Sanakeram factory building in Donji Kamengrad, Sanski Most municipality in November 1992, by beating him with his hands, feet and gun butt all over his body.
Cantonal Prosecutor Jasmin Mesic said that the suspect, who was accompanied by two other persons, drove injured party Krupic to a destroyed mosque and shot him in the head, causing him injuries which killed him immediately.
Following the arrest, Klepic was brought to the Una-Sana Cantonal Prosecution, where a prosecutor will question him and decide whether or not to file a custody order motion.