BOSNIAN / BOSANSKI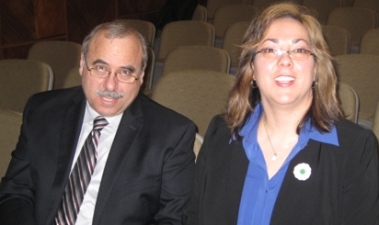 In collaboration with the Canadians for Genocide Education board, the Institute for Research of Genocide-Canada is held a lecture about the aggression on the Republic of Bosnia and Herzegovina and the Genocide in Bosnia and Herzegovina. The lecture was given by Suzana Vukic, the Member of the International Expert Team of the Institute for Research of Genocide, Canada Suzana Vukic was born and raised in Montreal. She is of Croatian descent. Her parents come from Kali, an island village near the coastal town of Zadar, in Croatia. Ms Vukic graduated from Concordia University and have a Bachelor of Arts degree in Applied Social Science. She works as an educator in socio-professional services with adults with intellectual disabilities and autism. For the past four years, She has been writing a column for The Hudson / St. Lazare Gazette, a local weekly newspaper based off the island of Montreal. She has written about a wide variety of social issues and personal topics of interest through her column, as well as other pieces published elsewhere. In the summer of 2010, She wanted to write about the 15th anniversary of the Srebrenica Genocide. In order to do so, She made connections with members of Toronto's Bosniak community and was invited to join them in Toronto on the weekend of July 11th to commemorate the Srebrenica Genocide. Following this, She was made an honourary member of the Institute for Research of Genocide Canada (IGC), an organization dedicated to documenting the
Bosnian genocide. Last summer (2012), the Bosniak community of North America (Toronto and New York) sponsored her trip to Bosnia. She participated in the Srebrenica Peace March, a three-day journey which commemorates the arduous journey undertaken by Bosniak men seeking to flee death at the hands of the Bosnian Serb army by escaping to safe territory in July of 1995. She attended the burial of 520 men, as well as the commemoration ceremony at Srebrenica/Potocari on July 11th. During her trip, she also did research for a book that she is writing on Bakira Hasecic and her organization, Women Victims of War. This organization is dedicated to helping women, men and children who were victims of mass and systematic wartime rape during the Bosnian war.
Numerous relevant sources of different provenance reliably suggest the two initial and basic, essential fundamental assumptions and provisions for the contemporary events and episodes in the Republic of Bosnia and Herzegovina at the end of XX century:
- First, a classic armed aggression was conducted against the Republic of Bosnia and Herzegovina, that is, it was crime against peace and safety of mankind which is according to the basic understanding and definition an international armed conflict and
- Second, the gravest crime – crime of genocide was committed in the occupied territory of the independent and universally recognized Republic of Bosnia and Herzegovina, a member of the United Nations, as well as towns under siege, and against Bosniacs.
These are the crimes, created on the foundations of the fascist ideology, two genocidal policies, two great-state projects, two joint criminal enterprise, two nationalistic movements, two aggressive and genocidal strategies, two states, than two or better to say three collaborationist and fifth column creations, two foreign armies, four collaborationist military formations, and several other armed units and groups, including the foreign mercenaries (Russians, Greeks, and others). Such fascist ideology, policy and practice of genocidal character had one objective – formation of great-Serbian and great-Croatian states on the account of independent and sovereign, historically permanent and clearly defined state of Bosnia and Herzegovina. The objective of these ideologies, policies, and practices was the conquering war for territories, "living space", occupying somebody else's, Bosnia and Herzegovina territory.
By Institute for Research of Genocide, Canada