Talat Hamdani, mother of Mohammad Salman Hamdani, a 23-year-old certified EMT and NYPD cadet who lost his life as a result of the 9/11 terror attacks.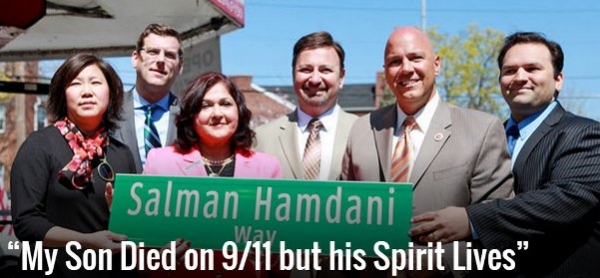 The New York Watch Team interviewed Talat Hamdani, mother of Mohammad Salman Hamdani, a 23-year-old certified EMT and New York Police Department cadet who lost his life as a result of the 9/11 terror attacks.
In 2012, Hamdani was not included in the list of fallen police officers in the NYPD's official 9/11 memorial and in the list of 441 first responders on the National September 11 Memorial. However, Hamdani received full police honors at his 2002 funeral, at which Mayor Michael Bloomberg and Police Commissioner Ray Kelly were present. Talat Hamdani received a police shield in honor of her son.
On April 28th, 2014, a street naming ceremony was held for "Salman Hamdani Way" on 204st street in Bayside, Queens in honor of Mohammad Salman Hamdani.
---
Who is Talat Hamdani?
I am Salman Hamdani's mother.
What does being a mother mean to you?
Being a mother is painful and beautiful. I would always teach my sons good values. I believe that what is right is not just what is right in Islam, but what is right as a human being, because if you are a good human being you will automatically be a good Muslim. I would always make sure I was being fair with my sons and try to put them on the right path of life. I always said to my sons that if you do not get along with someone, you do not have to get in their face, just walk way from them. Islam teaches us to always part on a positive note. I would remind them about Islamic values, repeating to them that the Quran says, 'take care of your parents.' I want to raise the best human beings.
How would you describe Mohammed Salman Hamdani?
As his mother, it's hard. Salman gave me all the happiness of motherhood, as he was my first born. My husband just doted on Salman, and it was very difficult for him to cope with Salman's death. He was the pillar of my house and both of my younger sons looked up to him because he was the eldest. They called him "bhaijan" (brother). He was their friend and their big brother.
He would smile at children. He loved children. Whenever we would go to a gathering, he would hold a baby in his arms and surround himself with toddlers. A year before 9/11, we went to a wedding and someone asked me, "Look at that man. Those are not his children. Who's son is he?" and when I looked where she pointed, I saw Salman surrounded by children and a toddler in his arms. The thought came to my mind, then and there, that I hope Allah blesses my son with children when he gets married. But he never lived to have children. He loved children and animals, he would do anything to help them.
As a man, he was very humble, kind, compassionate, and patriotic. He was a Star Wars fan. His license plate was "Yung Jedi." When he was younger he told me, "In order to be American, you have to know the Star Wars Saga."
Once when I advised him to apply to the Caribbean for medical school, Salman told me that he wants his school to be on American soil. In Spring 1999, we went to a funeral of a family friend who was a lieutenant for the NYPD and he was honored under the American flag. Salman said to me, "Mama, this is honor. That is how I want to go." At Salman's funeral, I was reminded of his words when he was honored under the American flag. That's how patriotic and humble he was.
How was Salman when he was younger?
He was normal kid without any prejudices toward anyone for anything. He was always smiling. When he was younger, we used to live in Greenpoint, Brooklyn and Salman attended Catholic school there. During church services, the principal would have Salman sit in her office. In 4th grade, he came home and told me he didn't want to go to school anymore because the kids would bully him. They told him he didn't belong in the school because he wasn't Catholic. So I went to the school and spoke to the principal to apprise her of the situation, and she said she would handle it.
A few days later, Salman came home and told me, "Mama, I have to bring the Quran to school." When I asked why and he said, "The social studies teacher told me everyone has to bring their book of faith." Salman got his diversity and tolerance training in the fourth grade. This is what this country needs and what every school needs to offer. I'm advocating for more diversity and tolerance training for schools and making sure its incorporated into the school curriculum.
As a Muslim American, what is your message to American Muslims?
Do not be afraid. Know your rights. You have the same right whether you were born here or not, except you can't be President. You must stand up for your rights. I have fought for my son and I am happy. The community needs to speak out and fight for their rights, but the community needs to always voice their concerns so we can work together to help strengthen the community. Our community needs to empower ourselves.
What is your message to Islamophobes?
Educate yourself. Ignorance is not a bliss. Go to a mosque and make friends with Muslims. Do not believe what you hear without verifying and educating yourself.
What inspires you?
Being an American inspires me. The one American value that I treasure the most is justice. If you work hard here, you make it. The American values are good values and help me strengthen my Muslim identity. I'm proud to be an American Muslim.
What gives you strength?
The strength to face any adversity in my life is my faith. Nobody can help me but Allah. It will only happen when Allah says,
Kun! fayakūn
('Be! and it is). My strength comes from my faith. In the Quran, there is a verse that says: "O you who have believed, be persistently standing firm in justice, witnesses for Allah" (Quran 4:135). You have to stand firm in justice, stand firmly for justice as witnesses for Allah. If everyone understood that, do you know what a wonderful world this would be?
thenywatch.com