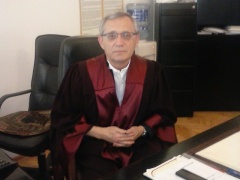 Senaid Ibrahimefendic, the president of the District Court of Eastern Sarajevo, said witnesses refusing to testify in war crimes cases is the most frequent problem his court faces.
In an interview for BIRN-Justice Report, Ibrahimefendic said he believed some witnesses may be afraid of testifying, and that the public at large is not well-informed on the work of courts and prosecutions.
"Some witnesses refuse to testify because they previously testified before some other court. Each case is separate, because what witnesses say in the courtroom happened. Trial chambers then evaluate the testimonies to see if they're credible," Ibrahimefendic said.
The District Court of Eastern Sarajevo had a witness support section until 2012 - funding for witness support staff hasn't been approved since, according to Ibrahimefendic.
"I'm sure the work of an associate would help solve problems related to refusals to testify. It wouldn't eliminate it, but it would reduce it," Ibrahimefendic said. The section also used to provide psychological support to witnesses before and after their testimony.
When asked by BIRN-Justice Report about witnesses who'd been forced to return to court for procedural reasons, Ibrahimefendic said the court needed to ensure that proceedings are handled correctly in order to avoid having witnesses appear in court more than necessary.
"The witnesses were sent back most probably because of procedural circumstances. Normally, it's totally unnecessary to invite someone to testify several times. The court has to make sure the criminal proceedings are conducted in accordance with the Law on Criminal Proceedings," Ibrahimefendic explained.
Witnesses who appear before the District Court of Eastern Sarajevo often can't be remunerated immediately for their travel costs. Ibrahimefendic said the court wasn't able to deliver payments immediately. He said the court issued remuneration through bank transfers to witnesses' accounts, a form of payment many witnesses weren't prepared for.
"Witnesses want to go to a cash office and take the money. We don't have a cash office, because we operate on the basis of our treasury. Witnesses should submit their current bank account numbers to the competent trial chamber chair," Ibrahimefendic said. He said the court never compensated witnesses on the spot, and had no pending debts to any witnesses.
When asked about the length of proceedings, Ibrahimefendic said war crime trials didn't last long. In the case of prolonged trials, Ibrahimefendic argued, inactive or inefficient judges were not to blame.
"The trial chamber sometimes postpones previously scheduled hearings for various procedural reasons, like requests for the exemption of judges, other obligations or defense attorneys representing defendants before other courts, particularly the Court of Bosnia and Herzegovina, or because it's impossible to hold a hearing due to the unavailability of witnesses," Ibrahimefendic said.
BIRN-Justice Report cited the case of Zarije Ostojic, charged with war crimes in Vlasenica, whose trial has been ongoing for the past six years. Ibrahimefendic agreed that the trial had been prolonged, although the procedural conditions for completing the case existed in 2010. He said due to the unavailability of a witness proposed by the defense, a retrial needed to be held.
Ibrahimefendic said when the retrial started, the defense requested that the chair of the trial chamber be exempted from the trial. A general session is expected to be held soon to decide upon the exemption.
The District Court of Eastern Sarajevo has two first instance chambers dealing with war crimes, as well as other criminal cases.
"We have a sufficient number of judges for all the cases," Ibrahimefendic said, adding that he acted as a preliminary hearing judge.
The District Court of Eastern Sarajevo has handed down six war crime verdicts. Six war crimes trials are still underway.