"The problem I see with Muslims is that they are fragmenting, breaking apart, and the universal message of Islam. This is the essence of Islam, help people and spread peace. We need to work hard to build understanding, trust between peoples."
Dr Husein Kavazovic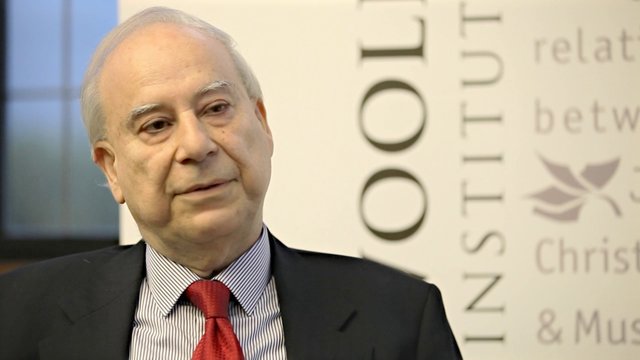 By Akbar Ahmed: When I asked the Grand Mufti what he would say to the rightwing Europeans who say that Islam is not European, he replied that Muslims have to show Europe that they are ready to find their "equal space" in Europe. "Of course," Kavazovic continued, "we do have challenges. The politicians are poisoning things, making it difficult for people to reconnect. We see it on a daily basis that it's drawing back, that that seed is growing back."
In Sarajevo, while conducting fieldwork for my book and film project
Journey into Europe
about Islam in Europe, I was privileged to interview both the present Grand Mufti of Bosnia-Herzegovina, Dr. Husein Kavazovic, and his predecessor, Dr. Mustafa Ceric. Their words of wisdom, including their vision of Islam as perfectly compatible with modernity as well as being perfectly compatible with European identity, are very important for both Muslims and non-Muslims to consider and learn from today.
I met Dr. Husein Kavazovic, the current Grand Mufti, who was educated locally and at Al-Azhar in Egypt, at the Grand Mufti's office in Sarajevo. He defined Bosnian identity as "multilayered": "We are of Islamic origin, settled in Southeast of Europe…Bosnians carry both identities, both values, Islamic and European. Bosnians are people that are open for accepting universal values."
When I asked the Grand Mufti what he would say to the rightwing Europeans who say that Islam is not European, he replied that Muslims have to show Europe that they are ready to find their "equal space" in Europe. "Of course," Kavazovic continued, "we do have challenges. The politicians are poisoning things, making it difficult for people to reconnect. We see it on a daily basis that it's drawing back, that that seed is growing back." The Grand Mufti spoke of his concern at what he described as "trends" currently that we are "seeing again" as in the time of "pre-aggression" in the 1990s prior to the genocide perpetuated against the Bosnians.
Kavazovic said that he believed that there were lessons that Bosnia could give the world in how it handled the aftermath of the genocide: "We are people that suffered genocide, but in spite of that, there was not a single incident of revenge from Bosnian Muslims to their Christian neighbors, to Serbs and Croats who did the genocide on Muslims. Why is that? Bosnian Muslims acted according to the universal message of Islam.""We as Bosnian Muslims," the Grand Mufti continued, "want what happened to us, the genocide, the massacres, to serve as a warning for everyone, for Muslims and non-Muslims. And we believe that from the genocide on Muslims in Europe, that Europe will take lessons for themselves."
"I don't feel inferior to anyone. I feel equal and decent and happy, because I am Muslim. The problem is that somehow we accept what others are teaching us that we are a problem. No, we are not a problem, we are a solution of this world."
Dr Mustafa Ceric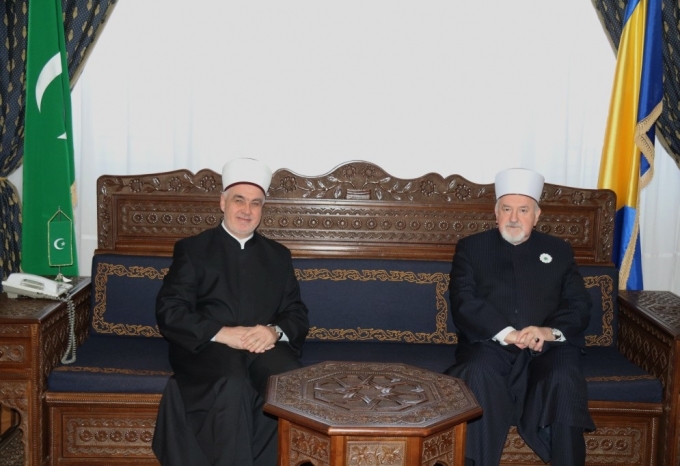 Bosnian Grand Muftis dr. Kavazovic and dr. Ceric
The Grand Mufti summed up the Muslim predicament today: "The problem I see with Muslimsis that they are fragmenting, breaking apart, the universal message of Islam. This is the essence of Islam, help people and spread peace. We need to work hard to build understanding, trust between peoples."
Grand Mufti Kavazovic's predecessor, Mustafa Ceric, who I met in Ceric's office, was also educated in Bosnia before attending Al-Azhar. He went on to obtain a PhD at the University of Chicago. Ceric served as Grand Mufti until 2012, and is a highly respected figure in the Muslim world. Ceric compared the approaches of both famous universities he attended. "When I was at Al-Azhar I was told everything has been solved. Islam has solved all the problems. So I was very sad. I didn't know what to do, because everything has been solved. When I came to the University of Chicago, they told me nothing has been solved. Everything is waiting for you to research and to study and to give solutions."
Ceric was seeking, he explained, to reconcile religion and politics. He believed this will be a "major theme of the twenty-first century. I think that Muslims are the only people today who are caring about what is right and what is wrong. It is another thing whether they do it in a right way…they are doing it very aggressively and so on."
Ceric discussed the importance of the Balkans as the European region with the most diversity, and also the importance of the indigenous Muslims of Europe. "The history of the Balkans and Europe cannot be separated…The Balkans was always a boiling pot, if you like. But my point is this: the Balkans remained the most dense in its multicultural, multilingual, multinational character, more than any other region in Europe." In this, Ceric said, the Balkans is unlike the rest of Europe, which was, in places such as Spain, "ethnically cleansed a long time ago."
Ceric traced the development of the philosophy of liberal democracy and international cooperation. "I as a Muslim in Bosnia now can say that despite what happened to my people, in the genocide and so on, I can say, thanks to the German philosopher Kant and to President Roosevelt, that the International Court of Justice and the International Tribunal for the Crimes Against Humanity in the Hague were established for the first time in history as a single court because of the genocide against my people."
Discussing the challenges Muslims were confronting, Ceric said. "I think our teachers are not up to the challenge of the time. Too much religion in a wrong way is very dangerous." "Unfortunately," he said, the "so-called modernists," who obtained an education in the West before returning to Muslim countries "are lost, they don't know what to do."
But he was upbeat about his identity: "I don't feel inferior to anyone. I feel equal and decent and happy, because I am Muslim. The problem is that somehow we accept what others are teaching us that we are a problem. No, we are not a problem, we are a solution of this world."
---
The writer is an author, poet, filmmaker, playwright, and is the Ibn Khaldun Chair of Islamic Studies, American University in Washington, DC. He formerly served as the Pakistani High Commissioner to the UK and Ireland. He tweets @AskAkbar

Published in Daily Times, November 4th 2017.