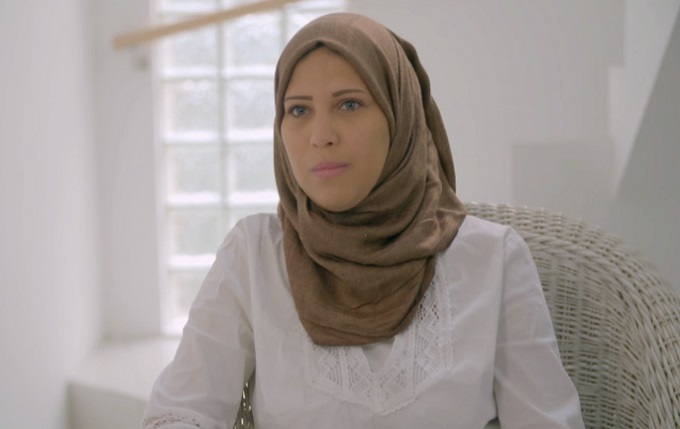 Leila Naser Saleh
Syrian refugees are arriving in ever greater numbers in Bosnia. Twenty-five years ago, Bosnia's own were going the other way.
Leila Naser Saleh was a few weeks short of giving birth when she reached Bosnia and Herzegovina, four months into a journey from Syria to the gates of the European Union.
"I was running out of time," she said. "I wanted the journey to end as soon as possible. It was so hard."
A quarter of a century earlier, Mersa Pasic travelled in the opposite direction, fleeing Bosnia south through the Balkans into Turkey and on to Syria's Aleppo. She was just a child.
"They wanted to take my only doll and check whether something was hidden in it," Pasic said of the border police between Turkey and Syria. "It was the only thing I had brought with me from Sarajevo. They wanted to slit it open to see if we were taking anything illegal across the border."
Now both women find themselves in Sarajevo, a city besieged for the duration of Bosnia's 1992-95 war, haemorrhaging residents and scattering them across the globe.
Syria is doing the same, only on an even greater scale, and a growing number, like Saleh, find themselves in Bosnia, one border short of the EU but blocked from advancing by Croatian police accused of using violence to keep them out.
More than 40,000 Syrians are forced to flee their homes every day, the United Nations High Commission for Refugees says, seven years into a war that is estimated to have killed half a million people.
Syrians are among the more than 9,000 refugees and migrants from Asia, Africa and the Middle East stranded in Bosnia, where authorities are struggling to provide adequate care.
Exhaustion and fatigue
Saleh, her husband and their three children walked 20 hours through Montenegro to Bosnia, along a new path from Greece up through Albania and hugging the Adriatic coast after a crackdown closed the original 'Balkan route' of 2015, when hundreds of thousands poured across the peninsula into Hungary.
Saleh said she would close her eyes "not to feel the pain and see what we – a pregnant woman and her family – were going through."
After an initially frosty reception and a then a change in shift in the border police, they made it into Bosnia. "It's OK," Saleh recalls the border officer saying. "This is Bosnia, Bosnia."
Turned back from the Croatian border in northwestern Bihac, the family returned to the capital Sarajevo, where Saleh gave birth several days later to a baby, a fourth son.
"They did laboratory and other necessary tests and found that the baby's heart was weak and wasn't functioning well due to exhaustion and fatigue. He was also underweight," she said. Mother and baby spent eight days in the hospital.
Twenty-six years earlier, Pasic who is now 35 years old went the other way. Then, also, the borders were intimidating.
"I went through some kind of shock at the Turkey-Syria border, the way police treated us," she said.
Both women, too, recall living happy lives before conflict turned them upside down.
"When the war broke out, I was attending the first semester of second grade elementary school," said Mersa. "Just like all the other kids, I had had a happy childhood up until then. We used to live in the old part of Sarajevo. I used to hang out with other children, go to the theatre and parks. Everything was just beautiful."
Saleh spoke in similar terms. "We had a family, brothers, sisters, friends and neighbours. We were very happy and had a very nice life," she told BIRN.
"I was happy. We felt safe. We left our homes and returned at all times of the day. We, the women, would stay out even until midnight. Life in Syria was the same as in European countries, even more beautiful. Wherever we went, we had friends and acquaintances. We felt secure."
Five years ago, two years into the war, Saleh's husband was called up to fight. "For what? On whose side? We are Palestinians, refugees in Syria," she said.
They sold up and left for Europe. They travelled through Turkey then by boat to Greece.
Homecoming
Mersa recalls her confusion at leaving the family home in Sarajevo.
"I was a child. I didn't understand. They just told me we would go visit our relatives in Macedonia and would come back soon."
As Bosniaks (Bosnian Muslims), Mersa's mother told her to conceal her real name as they travelled to Belgrade and south to Macedonia on false identification papers. From Skopje they went to Istanbul and then Aleppo.
"In Syria, everything looked much nicer and different," she said. "I enrolled in the second grade of elementary school and learned the language. I remember everyone accepting me and I really enjoyed my time there."
Saleh says they received a similar welcome when a Sarajevo family offered them use of one floor of their house.
It was a relief after the trauma of the road. In Montenegro, she said, "when they looked at us, even at our children, they would make an awful face. I cannot forget when my son Zein touched the hand of an officer at the camp and the officer began wiping her hand. As if we do not belong to the human race. We are people, just like you. Had it not been for the war, we would never have left Syria."
While they do not want for essentials, Saleh said, there are some things they do miss.
"I miss my family. I miss my mum, my sisters and brothers, " she said.
Pasic said the same. As a child refugee, she missed relatives left behind and her room in Sarajevo.
"I sometimes dreamt I was entering my room, seeing my Barbie dolls, my favourite books. I visualised my worktable," she said. "At some stage I could even smell my old room."
Mersa returned to Sarajevo in 1996, shortly after the end of the Bosnian war and is now a logistics coordinator for an international company. She has tried in her own small way to help with the refugees in Sarajevo and Bihac.
"We have to understand we were just like them 20 years ago and they accepted us," she said. "We felt what it was like to lose someone, what it means to be in a war, what it means to escape from war and to return to a war-torn country."
There are currently 25 million refugees around the world. Most, around 60 per cent, come from three countries – Syria, Afghanistan and Southern Sudan. More than half are under the age of 18.